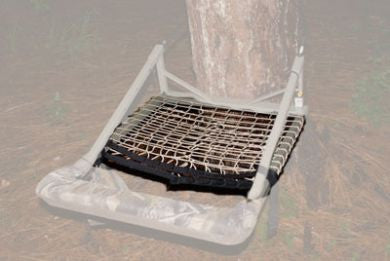 Hazmore Outdoor Products
Silent Seat for API Wide
---
Hammock seat for API wide type square back frame including Higher Level Magnum 24, Equalizer 24
This silent seat is for square back frame treestands like API wide models that are 23" outside the frame rail and larger".  Each seat is treated to protect against UV rays and rot. The treestand seats also do not absorb water.
These seats are great for bow hunters because they are quiet and will slide out of the shooters way when you stand up making absolutely no noise and give full use of your platform. Each seat comes with a complete set of instructions on how to attach the seat to a stand. These seats are extremely comfortable and you will not miss your back rest. This seat will cut your setup and take down time in half, because you will not need to wrestle with the bulky factory seat in the dark. Silent Seat is very lightweight and will shave valuable weight from the tree stand to keep you mobile. Finally the Silent Seat does not absorb odors like factory foam seats assisting you in staying hidden from a Whitetail's best defense.
This is a hammock style seat to replace your bulky factory padded seat, treestand seat frame not included.
Hammock seat for API wide type square back frame including Higher Level Magnum 24, Equalizer 24
---
Share this Product
---
More from this collection